Full Service Air Conditioned Storage Facilities
Mr. Small Move Moving Company's full service, containerized and air conditioned storage facilities are a perfect solution for those in need of storage for their belongings. Mr.Small Move Moving Company's storage facility is great for storing items after you home is sold while looking for a new home, while remodeling your existing home and to clear out your home when putting your home on the market to sell.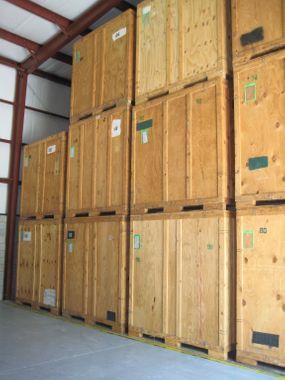 Mr. Small Move Moving Company's Storage facility is also great for Interior Designers and Builders who need to store their customers items prior to completion of building or remodel project. In addition to Storage Mr. Small Move also offers receiving services and delivery services to Interior Designers and Builders
For other professionals such as real estate agents, designers and contractors, using Mr. Small Move's storage facilities can add value when selling or upgrading a client's home by creating the additional space you need to do your best work.
Entrust your belongings to a Moving and Storage Company with over 25 years of experience and a reputation for quality, competence, and safety. Our storage facilities are safe and secure and our professional moving services are available to help you transport your items to and from the facilities.
Storage Features
Long term storage and short term storage available
Containerized storage offers a secure clean storage environment for your belongings
Entire Warehouse is air conditioned and is perfect for storage of household goods, including piano storage, fine artwork storage, book storage, document storage and wine storage
Warehouses are monitored by state of the art, 24-hour security and video surveillance, smoke and fire systems
Warehouses are built to the latest hurricane codes and have a foundation situated 20 feet above sea level
Competitively priced storage offers exceptional value
Unparalleled convenience, door to door service from your home to our facilities and back
Same care and professionalism from our highly trained movers who provide professional moving services
Safe storage and preparation of belongings, including padding needed for damage free storage